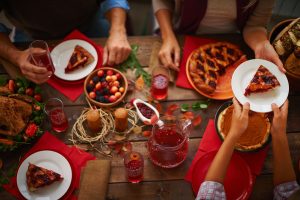 Comedians joke about the stress of family togetherness at holiday time—and these jokes reflect the truth.  Many of us dread these gatherings because talking about politics and other current hot topics can ruin the holiday. Yet no matter who shows up at your table on Thanksgiving, sharing personal stories creates a bond of understanding. 
In John O'Donohue's latest book, Walking in Wonder: Eternal Wisdom for a Modern World,  John says, "Memory to me is one of the great sources, one of the great treasure houses, of wonder. You look at humans walking around…and you realize that each one of these creatures is carrying within herself or himself a whole harvest of lived experience."
Yes, no matter your age (and the older the better), you are rich with memories. But, how can you get the conversation started on a positive foot? An alternative to the normal (and possibly contentious) dinner table discussions, is to ask questions that require each person to dive into their past—to share cherished memories. Each family is different, yet you'll be amazed by the stories you never knew, when you ask any or all of these questions: 
Tell about a pet you had when you were a child.
Tell a story about a friend who helped you.
What is your favorite holiday, and why?
Which item in your room or home is the most important to you.

 
Instead of just asking the questions, you might prefer to write each one on a separate sheet of paper, and let each person select one question. Be creative and have fun. 
When you get the ball rolling, you'll hear about events and people you've never heard before, and best of all, the conversation will open the door to compassion. Stories are the catalyst for true understanding, and a great way for children to participate in what is normally a time when adults do all the talking.
Stories are the perfect ingredient to ensure your Thanksgiving meal is satisfying. Okay, stories and pie.  Pie is always satisfying!
*********
I am grateful to YOU for inspiring me this year. Thank you for trusting me with your personal stories and making suggestions to enhance our storytelling classes.  I'm currently training leaders to use the "Perfect Age Story Card" for family gatherings, company icebreaking exercises, and friends who just want to have fun. Contact me at jan@whalenvoices.com for more information.