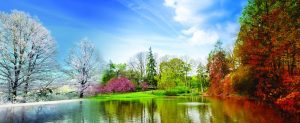 Do you have the patience of a farmer when it comes to publishing your first book? 
After visiting my first home-state of Minnesota last week, I got to see the grand finale of the farming year—the HARVEST. Growing up, I don't remember the semis in the fields and the monster tractors, yet it was all a great reminder of the seasons, the patience, and the long journey it takes to work the land. 
Book publishing also has "seasons."  In this instantaneous-I-want-it-now world, we look for that magic wand to make a finished book appear instantaneously, yet, like farming, it takes time and effort. If you're thinking of writing a book, my advice is to enjoy the journey, see each season's beauty, and let Whalen Voices help you through each stage. Here's an overview of the seasons: 
WINTER is a time of INSPIRATION. It's when the "Maybe I could write a book" turns into "Yes I will write a book." Along the way you decide the What, How, Who of the book.  Whalen Voices will guide you in your book's direction and inspire you to dream big. 
SPRING  Time for PLANTING. Seeds need to be tended, and your book is in the stage of planning, research, and possibilities—maybe you visit Starbucks to get inspired. Whalen Voices gets you focused in the direction of clarity, originality and purpose. 
SUMMER: This season brings GROWTH. Deadlines might be looming before you, and by now the topic has grabbed your heart, mind and time. Most thoughts lead back to the book. The danger for the first time author—even after all the hard work—is that sometimes they give up their aspirations. We are your rock—sticking with you until the end, giving honesty and assurance. 
AUTUMN: It's time to HARVEST. Through the art and science of technology, your completed manuscript (MS) transforms into a book. Whalen Voices coordinates with graphics professionals to assure a safe and smooth delivery.  
Time to celebrate! You've just had a book!